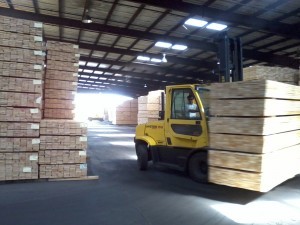 Spanish Trail Lumber has a capacity to manufacture over 135MM BF a year of Southern Yellow Pine. We specialize in Southern Yellow Pine PET STUD lengths 92 5/8″, 104 5/8″, 116 5/8″ in both 2×4 and 2×6. We can also produce custom PET lengths in truck load quantities at a competitive price. All our PET studs are SPIB #2 grade stamped and because we saw it in the sawmill for the specific length of PET, our product often exceeds the grade requirement for wane of #2 making it a #2 & better product.
We also produce SPIB #2 Prime, #1, #2, #3 and #4 finished lumber in 6′ through 12′ lengths. We can offer both flatbed trucking and direct rail shipments from our mill. The FGA mainline passes through our mill property and our spur comes right to the back door of our warehouse. Our warehouse is one continuous building with 3 sides completely closed in so we do not experience the problems of having multiple open-sided lumber shed storage.
We offer bagged lumber. Our bagging material is 3.5 oz polypropylene, the best bagging material available. We put three additional straps on the outside of the bag to hold the bag in place instead of nails or staples that would otherwise damage the lumber and create tears in the bags. 2×4 bagged lumber will have a total of 6 straps per pack and 2×6 will have 5 straps per pack making it an extremely stable product to handle on job sites or multiple handling situations.
All of our lumber is dried in one of two double track 81′ kilns to below 19% moisture content. #2 Prime has full corner protectors to prevent damage to the lumber. We offer 2×4 in 208 piece count packs and 2×6 in 128 or 64 piece "half" packs.